This guide will show you how to register for The EmSAT test step by step. The EmSAT test is a college entrance exam in the United Arab Emirates that is required for admission to most universities.
Students who are planning to register for the EmSAT Achieve grade 12 or EmSAT Achieve test get prepare for the following documents before starting the registration process –
Valid Emirates ID
Recent passport size photo
Active mobile number
Active Email address
Mobile number and Email address can be either of students or parents as communication regarding the opening of EmSAT Test booking, score release, etc. will be done through registered email and mobile number only.
There are two ways to register for the EmSAT
Registration through school/University
Self-Registration
1. Registration through School/University
Students who are registering through the school or university needs to talk to the coordinator and provide requested documents by the coordinator. Coordinator completes the registration processes and once it done you will receive user ID and password to login. The User ID and password received by school/university is used for scheduling the appropriate exam as per your convenient. 
2. Self-Registration
Before starting the self-registration for the EmSAT Test talk to the school/university regarding the registration. Once the school/university coordinator tell you do registration by yourself then start self-registration process
To register for the exam, take help of user manual provided by the ministry and follow the steps carefully or follow the steps discussed here
Self-Registration steps
Step 1
Students who are currently in grade 12 or already completed their schooling can register for the EmSAT test through the link – https://emsat.moe.gov.ae/emsat/emsat_register_en.aspx
Once you click on the link you will be directed to the screen as shown below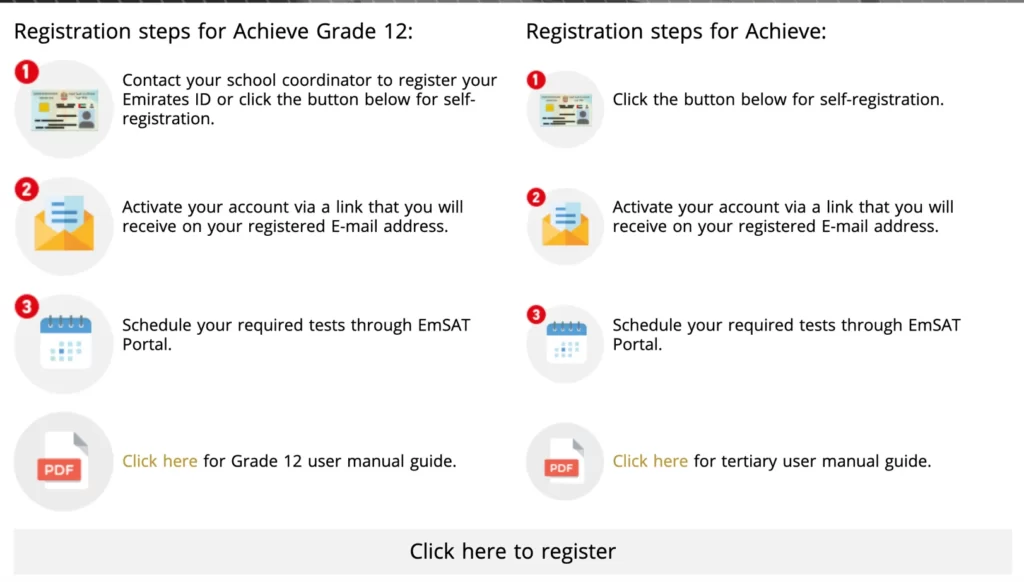 Once you click on "click here to register", a window opens as shown below
If you are registering it first time then click on "No, I don't have account".
In case if your school/university has already registered for you then click on "Yes, I have account" and use the user ID and password provided and book your exam accordingly.
Step 2
Once you click on "No, I don't have an account". You are asked to type your valid Emirates ID number, type it carefully and click on continue.
An OTP will be sent to the mobile number linked to the EID (registered on ICA)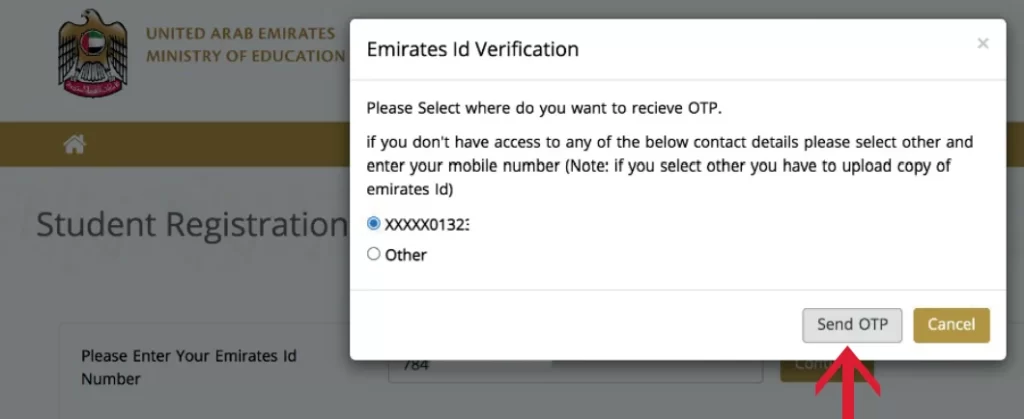 If you are still using the same mobile number linked with your Emirates ID then select the option as xxxxx0132. Last four digits in the option are representing last four digits of your mobile number linked with ICA

If your active mobile number is another then select option "other" then type it and click on send OTP
A­fter clicking on "Send OTP" you will receive pop up message 'your security code has been sent successfully, check your mobile phone for 6- digit code' Enter the OTP received carefully and verify
Step 3
Fill in the required fields accurately as per the given instruction
Fill the following details as follows
Name – As per Emirates ID or passport
Valid Mobile number
Valid Email address
Create user name and strong password (These details are used for login into your account)
Select the Emirates where you live currently, Ex: Dubai
Select curriculum and institution in which you are currently studying
Ex: curriculum – British
Institution – GEMS Dubai
Select Track – Advance (or equivalent)
Upload Recent passport size photo
If you are special need student then only select appropriate box and provide necessary supporting documents.
If you are children of UAE national mother then click on appropriate box and provide necessary supporting documents
In case, you are not a part of both options above then no need to select anything just click on register button
Select "I certify that all the information mentioned are correct" and then click on "Register"
Step 4
The student will receive an email and SMS notification once activated/ deactivated.
To activate your account, click on the link sent to your email. In case of deactivation, students should talk to the school/university or to the ministry call center – 80051115 and ask the reason for it. Follow the steps till an activation link is sent.
Step 5
Once your account is active, re-login into your account using the user ID and password created
Select your preferable available test subject, test date, time, and test center.
Step 6
A­fter submitting and confirming your booking, the page will automatically take you to the payment gateway. Follow the instructions given carefully and make the payment to confirm your registration.
Students enrolling with Proper Choice Training Institute for test preparation and need any additional support in registration, we help then to register for the test.
Contact Us for EmSAT Preparation
Check out More Information Related to EmSAT Preparation