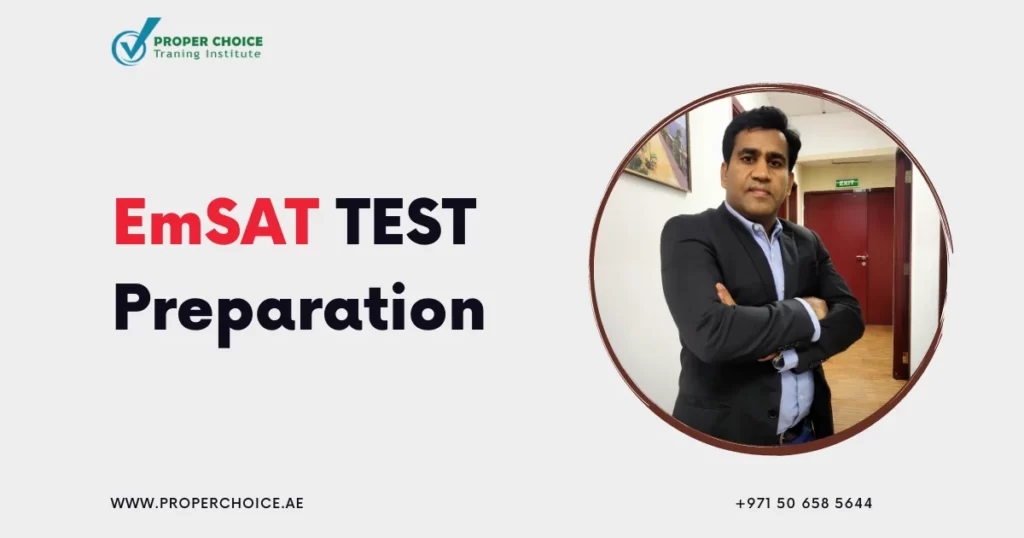 EmSAT (Emirates Standardized Test) is a computer-adaptive standardized test for admissions to the University or college in the United Arab Emirates. The main purpose of the EmSAT test is to assess students' skills and knowledge in the area of interest for higher studies in targeted subjects.
The EmSAT determines the extent to which a 12th-grade student is ready to study at the college or university level. This test provides the higher management with data for college admission and placement. It is a computer‐based exam where its test sections, questions, and options are randomized. Sections and subsections of the test are timed by the computer. Test-takers can see how much time they have throughout the exam.
Advantages of preparing for EmSAT at Proper Choice
EmSAT Test preparation begins with a Diagnostic Test which will help us to assess your subject knowledge
Online/In-person training as per students convenience
In-Depth Coverage of test syllabus as per MOE and EmSAT Standards
2 Computerized MOCK Tests( similar to real EmSAT exam )  per subject and reviews – which helps students to understand the test and prepare themself accordingly
Over 300+  EmSAT Test questions discussion  per subject
Highly experienced and professional instructors with over 10+ years of teaching experience
Proven strategies and techniques to ace the test on the first attempt
Private Training and small group( 6 – 8 students) to provide personalized attention to individual students. 
Assess students skills and knowledge developed throughout the schooling
Helps students to get admitted to top universities in the UAE
Evaluate performance of students from government and private schools
Equivalent to other higher education entrance exams
Helps students to peruse higher education in interested field
EmSAT Achieve Test Structure
EmSAT Achieve Test syllabus 2022-2023
EmSAT Test Subject

Test Syllabus

No. of Questions

Test duration

 

Question type

Test score range

EmSAT Achieve English

1. Grammar

2. Vocabulary

3. Sentence Builder

4. Paragraph Builder

5. Cloze Reading

6. Extended Reading

7. Single-Question Reading

8. Writing

110 questions approximately, including one essay (200-250 words)

135 Minutes

Multiple Choice, Drag and Drop, Reading, Essay, Sentence Building, Paragraph Building,

 

300 – 2000

EmSAT Achieve Math

1. Algebra

2. Geometry

3. Statistics

 40 Questions

90 Minutes

Multiple Choice and Fill in the blank

 

500 – 2000

EmSAT Achieve Physics

1. Mechanics

2. Waves and optics

3. Thermophysics and thermodynamics

4. Electricity and magnetism

5. Modern Physics

   40 Questions

90 Minutes

Multiple Choice

500 – 2000

EmSAT Achieve Chemistry

1. Matter and its properties

2. Energy, force, & the law of conservation of matter.

   40 Questions

90 Minutes

Multiple Choice, fill in the blank, Drag and Drop, Choose more than one correct answer 

 

500 – 2000

EmSAT Achieve Biology

1. From Molecules to Living Organisms – Structure and Function

2. Genetics and genetic technology

3. Biodiversity – similarities and differences

4. Ecosystems – Interactions, Energy and Dynamics

 50 Questions

90 Minutes

Multiple Choice

500 – 2000

EmSAT Achieve Computer Science

Python

100 Questions

120 Minutes

Multiple Choice

500 – 1500+

C++

JAVA
Our Recent EmSAT Math Score
| | |
| --- | --- |
| Student Name | Score |
| Maryam Adel Aljabery | 1925 |
| Obey Hersh | 1625 |
| Heya Mejid | 1375 |
| Abdullah | 1375 |
| Noof Zaron | 1325 |
| Haya Harris | 1300 |
| Jesty Jacob | 1250 |
| Ayesha Almulla | 1250 |
Our Recent EmSAT Physics Score
| | |
| --- | --- |
| Student Name | Score |
| Mohammed Khalid | 1400 |
| Meera | 1325 |
| Jesty Jacob | 1275 |
| Heya Mejid | 1250 |